Hollywood Sketchbook
Wouldn't you love to be rummaging around at an auction or thrift store, and discover a box crammed full of costume swatches and sketches?
Hollywood Sketchbook: A Century of Costume Illustration is the next best thing.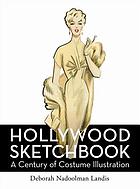 This book by Deborah Nadoolman Landis is one of a series she has written to preserve and promote the story of costume design.  While working on a book that matched a famous costume to its design sketch, she and her assistant Natasha Rubin found "an abundance of sketches by unknown designers and illustrators from unknown movies starring unknown actors."  The sketches didn't fit the profile for the book they were working on, but were too interesting and attractive to ignore.  They decided to do another book to bring that forgotten work into the limelight.
The result is this giant coffee table book with hundreds of full-color illustrations, showing the work of 71 different illustrators.  Most of them are represented by a few sketches and a quote, some by lengthy profiles, and one or two, by the few sketches that represent the only record of their careers.
I never knew that costume designers did not always illustrate their own designs, but as Nadoolman Landis points out, the talent for fitting a costume to the script and/or the actor is not always accompanied by drawing skill, and in other cases, the size of the cast to be costumed is so huge that assistants have to be brought in.
The illustrations range from iconic —
to unidentified —
 From flirty —
      to fantastic —
From intricate —
to informal —
Even animals–
and animated characters —
have to have the perfect costumes to help tell the story!
What I like best about this book is the huge range of media, techniques, and artistic styles that are included.  Even if I didn't love the subject matter, I would still find inspiration on every page.  I look forward to reading all of her other books, too.
Many of the illustrations in the book are now part of digital collections, so if you would like to see more:
Edward Stevenson Collection at Idaho State University Library
Los Angeles County Museum of Art
At the time this book was written in 2012, there was not a museum of Hollywood history, but the Academy Museum is being built now.  They already have some online exhibitions, and here is the one on costume designer Edith Head.
And when you're done checking out all those great resources, grab some giant sunglasses, have your people call my people, and we'll do lunch!